Visiting the Temple of Literature in Hanoi: A Journey Through Vietnam's Intellectual Past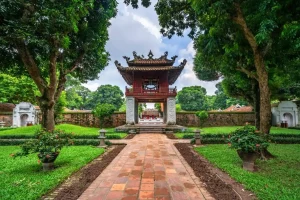 The Temple of Literature in Hanoi is one of Vietnam's most important cultural and historical landmarks. Built in the 11th century, the temple was dedicated to Confucius and served as the country's first university, where scholars and intellectuals were educated and trained in the principles of Confucianism.
The Temple of Literature is a complex of buildings and courtyards that are laid out in a traditional Chinese style. The main entrance is marked by a towering gate that is adorned with traditional symbols and motifs. Once inside, visitors can explore a series of courtyards, each of which is devoted to a different aspect of Confucian scholarship.
One of the most impressive features of the Temple of Literature is the "Well of Heavenly Clarity," a large pond that is surrounded by ornate pavilions and stone sculptures. The well was used for ceremonial purposes and was considered a symbol of purity and enlightenment.
Visitors to the Temple of Literature can also explore the "Doctoral Steles," a collection of 82 stone tablets that are inscribed with the names of the scholars who passed the imperial exams and were awarded doctoral degrees. The steles are housed in the "Temple of the Jade Mountain," a pavilion that is dedicated to the worship of Confucius and his disciples.
The Temple of Literature is also home to a number of gardens and courtyards that are adorned with statues, bonsai trees, and other traditional Chinese and Vietnamese decorations. Visitors can stroll through these tranquil spaces and soak up the peaceful ambiance of one of Vietnam's most sacred and historic sites.
A visit to the Temple of Literature is a journey through Vietnam's intellectual past, a chance to explore the traditions and values that have shaped the country's culture and history. It is a testament to the enduring legacy of Confucianism and the importance of education and scholarship in Vietnamese society. Whether you are a history buff, a student of philosophy, or simply looking for a peaceful escape from the bustle of Hanoi, a visit to the Temple of Literature is a must-do on any trip to Vietnam.