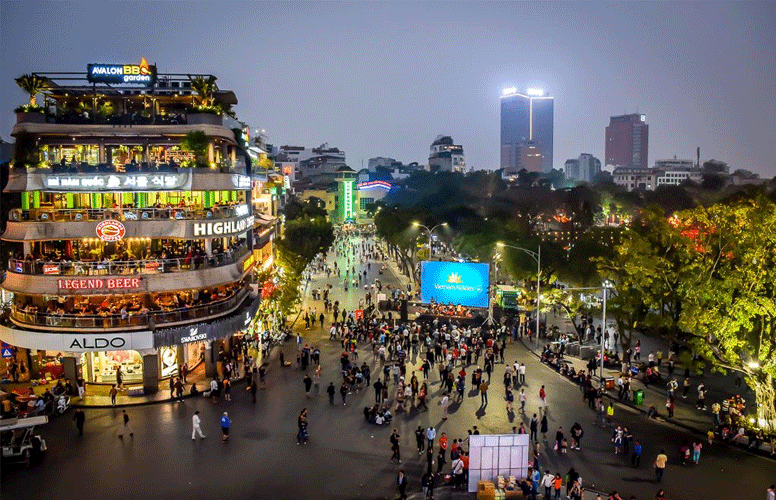 Discover 9 Must-Visit Tourist Attractions in Hanoi
Hanoi's tourist attractions boast a rich cultural heritage that evokes nostalgia for its thousand-year-old civilization and history. Visitors can't help but be captivated by the vibrant atmosphere of the 36 streets and the grace of the Hanoians.
From dawn till dusk, Hanoi is abuzz with dynamic activity. The city is adorned with over 600 temples, pagodas, and other cultural relics that lend it a distinctive character. La sinfonía Citadel presents the top tourist destinations in Hanoi that you simply can't afford to miss!
1. Temple of Literature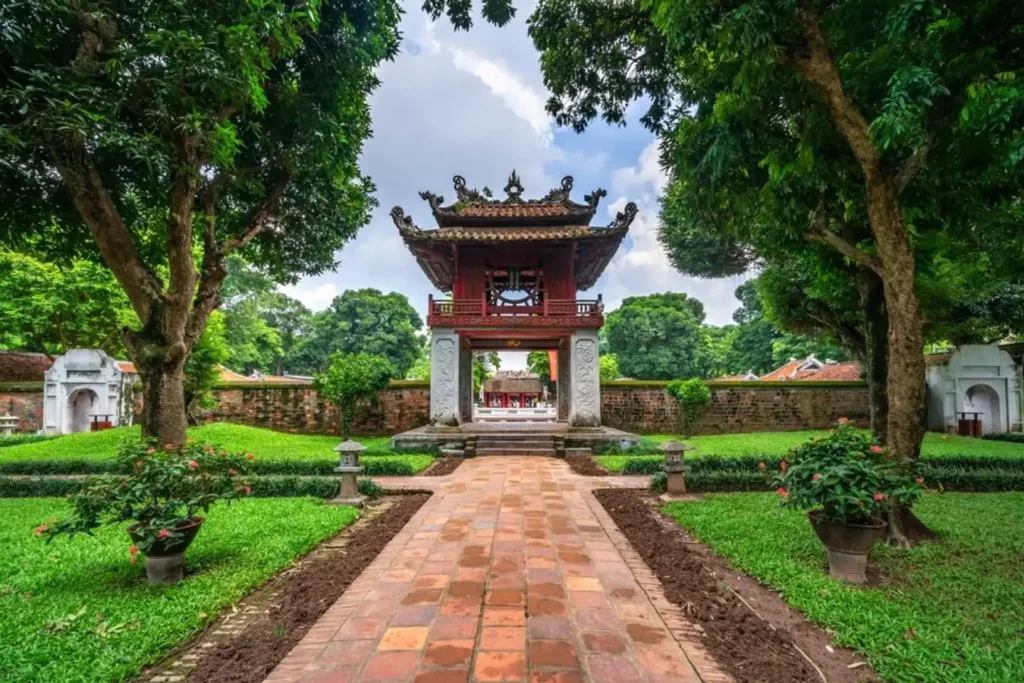 Just few mintute by walking from our hotel, The Temple of Literature is a significant site where revered figures such as Confucius, Confucian sages, and Chu Van An, a revered scholar of the National Academy, are worshipped. It also happens to be Vietnam's first university, constructed in 1076 during the reign of King Ly Nhan Tong. Not only is it an important historical and cultural landmark for the country's capital and its people, but it is also an architectural masterpiece that embodies the ancient style of Vietnam's Ly dynasty and rightfully deserves preservation and conservation efforts.
Location: No 58 Quoc Tu Giam str, Van Mieu Ward, Dong Da Dist, Ha Noi, Vietnam.
Distance from the hotel: 1000 m – 12 min walk
2. Pillar Pagodar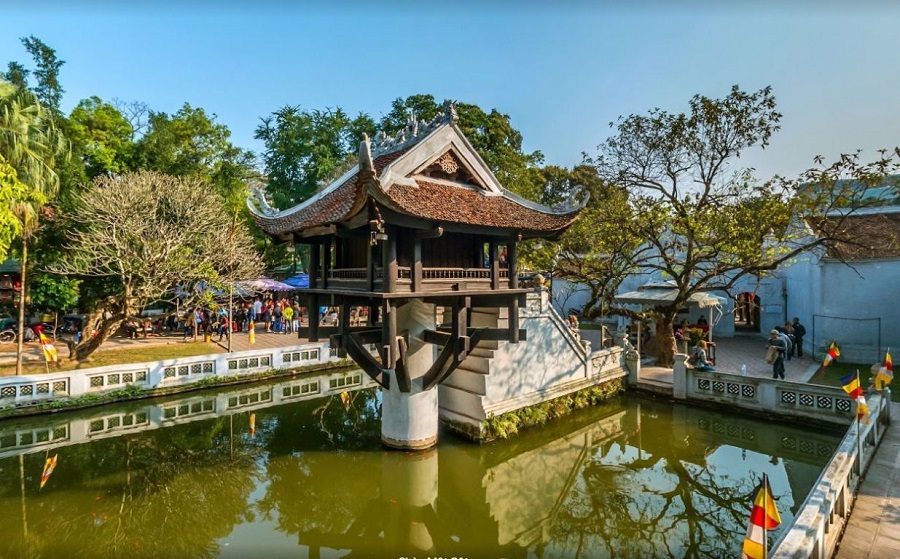 It would be a great pity if you visit Hanoi's tourist attractions without stopping at One Pillar Pagoda. This is an extremely unique ancient architectural work that until now, the year of its exact construction still makes historians debate. The pagoda is built of wood, including a square Lotus platform on top of a 4-meter tall pillar. The Lotus platform has a tiled roof, curved at four corners, with Twin Dragons flanking the moon on the top. Dragon has always been a sacred symbol, representing power and strength, embodying many human values and aspirations.
Distance from the hotel: 1300 m – 13 min walk
3. Ha Noi St. Joseph's Cathedral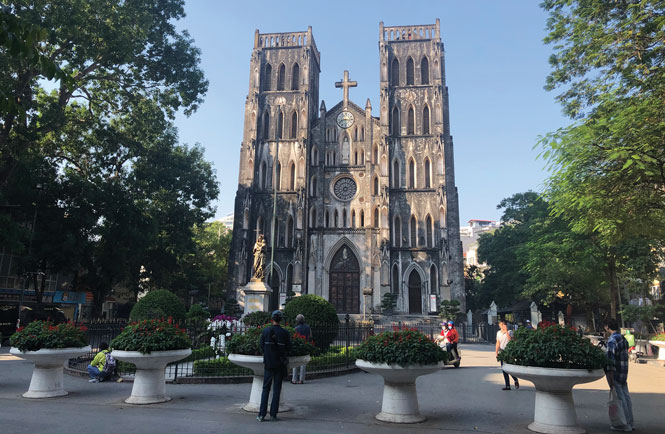 Strolling through Hanoi, one can't miss the magnificent St. Joseph's Cathedral. This stunning church was constructed in the early 19th century by the French, and features the iconic Gothic architectural style prominent during the medieval era in Europe. Modeled after the famed Notre-Dame de Paris Cathedral, it boasts wide vaulted ceilings that seem to soar towards the heavens above.
Measuring an impressive 20.5 meters in width and 64.5 meters in length, it is impossible not to be awed by this structure's two towering bell towers, rising an impressive 31.5 meters skyward. But St. Joseph's Cathedral is not just a feast for the eyes; it is also a popular destination for both locals and tourists alike. The lush landscaping and expansive grounds, dotted with trees, make it a perfect spot for young people to unwind and relax.
Whether you're passing through the area or plan to spend some quality time there, you won't want to miss stopping by in the morning for a cup of joe at one of the adorable sidewalk cafes. The fresh, cool air of Hanoi is simply irresistible. And in the evening, catch up with some friends over a glass of refreshing lemon tea while you chat and watch the world go by.
Opening Time: 8h – 11h và 14h – 20h every Monday to Saturday and 7h – 11h30 and 15h – 21h
Location: 40 Nha Chung Str, Hang Trong Ward, Hoan Kiem Dist, Hanoi
Distance from the hotel: 900 – 9 min walk
See more details about Hanoi Opera House
4. Hanoi Old Quater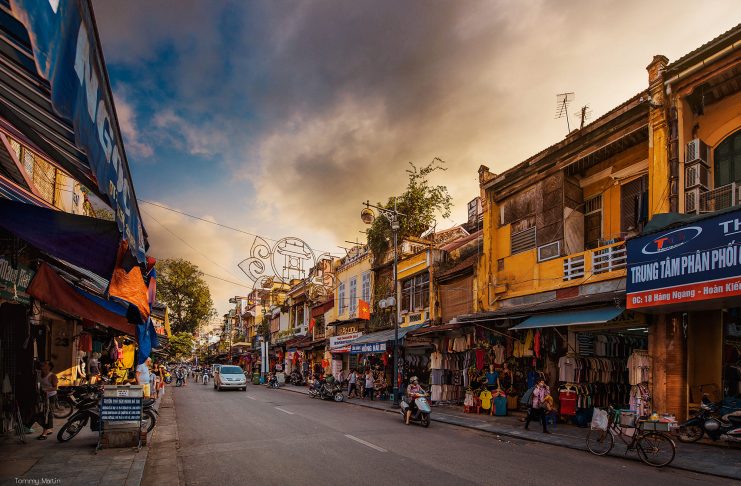 If you happen to visit Hanoi, make sure to stop by the Old Quarter, as it's definitely a must-visit tourist destination! The French architectural style of the 19th century can be seen in every house, street, and corner, which has been beautifully preserved throughout history. Despite the passage of time, the Old Quarter still retains its original features, making it truly special.
You would not want to miss the Old Quarter when you're in Hanoi, as it is the heart and soul of this city. It's the best place to experience the elegant beauty and unique characteristics of the lovely people of Hanoi.
Distance from the hotel: 200m – 3 min walk
5. Hoan Kiem Lake
Hoan Kiem Lake, also referred to as Sword Lake, is positioned in the core of Hanoi, the capital city of Vietnam. it's perceived as a cultural and significant emblem that intensifies the aesthetics of the millennium-old capital. Apart from its momentous antiquity, Hoan Kiem Lake is also an admired leisure destination for residents and sightseers amidst the frantic urban expanse. Within the lake's environs reside remarkable tourist destinations in Hanoi that persistently allure visitors like the Turtle Tower, Pen Tower, Thê Húc Bridge, and Ngoc Son Temple.