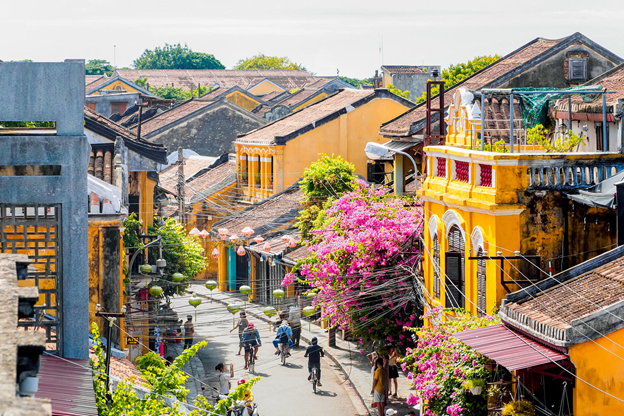 Hoi An – the most featured destination in the central of Vietnam. This place is considered a rustic, simple, and poetic picture. Although day or night, Hoi An still has its own different beauty.
Besides the diversity of cultural values, Hoi An still preserves the intangible cultural platform that is quite bulky. The daily life with customs, religious activities, folk art, cultural festivities with the romantic natural landscape, and special dishes… make Hoi An become more attractive with foreign tourists.
1. Best time to go
The climate in Hoi An is clearly divided into 2 seasons: dry and rainy. However, according to the traveling experiences, it will be great that you can go to Hoi An in 4 following durations:
From February to April: In this time, the climate in Hoi An is especially cool and pleasant. It is suitable for travelers who want to come here for relaxing.
From May to July: This is the dry season in Hoi An, it is a great time for traveling to the beach and Cu Lao Cham island.
From October to December: If you want to get the feeling of sailing in the ancient town, you can come here at this period. Because this is the beginning time of the rainy season in Hoi An and the ancient town is flooded in water so that people have to travel by boat. However, your travel plans will be obstructed by rains. So think carefully before getting to Hoi An at this time.
On the 14th of every month in the Vietnam lunar calendar: It is an extremely interesting time if you go to Hoi An. At this time, all families in Hoi An will turn off the lights and use the lantern to lighten. Therefore, you will have a chance to see the beautiful and fanciful scenery that you just have seen on TV before. Moreover, the festival and traditional music performances will make you not regret coming here.
2, How to get to Hoi An
Airplane
Although Hoi An is located in Quang Nam province the nearest airport is in Da Nang. Currently, there are many airlines like Vietnam Airlines, Bamboo Airways, Vietjet Air,… There are many flights from Hanoi, Ho Chi Minh City… to Da Nang City every day. If you would like to buy cheap tickets, you should reserve about 3 to 6 months before your travel date.
Bus or train
From Hanoi or Ho Chi Minh City to Da Nang, the train tickets have a price range from 400.000 – 1.200.000 dong depending on each type of trains and seats. You will have to spend about 14 – 20 hours to get to Da Nang from the 2 above cities.
If you catch a bus to go to Da Nang, it is about 400.000 – 500.000 dong with many buses as Hoang Long, Mai Linh, Thuan Thao, and the duration is about 18 – 20 hours from Hanoi/Ho Chi Minh to Da Nang. In case you come from Ho Chi Minh and go to Da Nang by bus, it will reasonable if catching a bus going to the North of Da Nang and you could stop when passing through Hoi An.
As a transit destination to Hoi An, from Da Nang, it is easy to catch a bus or taxi for transferring to Hoi An.
How to get to Hoi An from Danang
By private transfer or taxi: You can book with your hotel. It may cost around 20 USD
BY BUS: The cheapest way to get to Hoi An from Da Nang is by public bus. It costs VND 25,000 (about 1 USD) each way. However, it doesn't stop at Da Nang Airport so you'll need to take a taxi first to Da Nang central bus station. From there, buses leave every 20 minutes from 5:30AM until 6PM. It will make several stops and get you in to Hoi An in about 70-80 minutes.
Transportations in Hoi An
Hoi An has many kinds of transport services that such as bus, taxi, motorbike taxi, cyclo, bicycle, etc. so that you can visit Hoi An by taxi, motorbike, bicycle, cyclo, or walking. If you choose to use a motorbike, remember to know clearly about some streets where the motorbikes are crossing prohibited.
The motorbike rental price is from 120.000 – 150.000 dong/day. But the most interesting way to travel around Hoi An is still walking and cycling with the bicycle, the rental price is just about 40.000dong/day and you can go around to feel the special beauty of Hoi An.
In the evening, it will be great if you walk along the Thu Bon river to admire the stunning beauty of Hoi An at night. Another choice that you can go by cyclo but when walking you can save your expenses and enjoy street foods here.
Best Things to Do and See in Hoi An
1. Chua Cau (Japanese Bridge):
Chua Cau is considered a jewel in the heart of Hoi An. It was built in the late 16th century and known as the Japanese Bridge. It is quite nice with its architecture and decorations that showing the harmony between Vietnamese, Chinese, Japanese, and Western-style. Besides that, it has been famous for its legend and historical culture.
Location: This bridge spans the canal that flowing into Thu Bon river, the border between two streets Nguyen Thi Minh Khai and Tran Phu.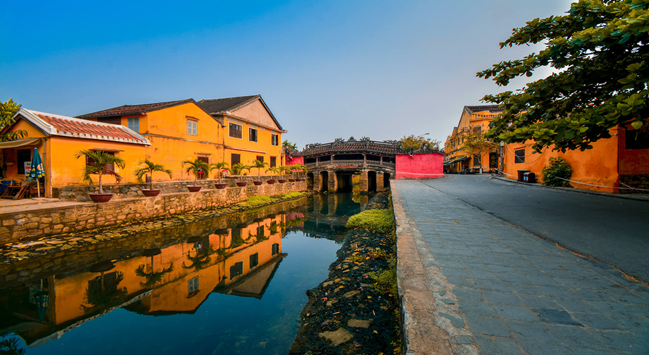 2. Hoi Quan Phuc Kien (Fujian Assembly Hall)
According to the legend, the formerly Assembly Hall is a small temple worshiping statues of Thien Hau Thanh Mau (the goddess who protects the traders passing the ocean waves) was found on Hoi An beach in 1697. After many times of restoration, with the main contribution of the state of Fujian, the Assembly became more vibrant and spacious, contributing to the diverse architecture in Hoi An.
Location: 46 Tran Phu Street
3. Tan Ky Old House
This house was built nearly 200 years ago and had the specific architectural style of Hoi An house. It was divided into many rooms and each one had its own functions. The front was the shop that opened for trading and the back was near the river to import the goods.
It was built with traditional materials and created by the local carpenters so that it had a special beauty and also showed harmony with other architectural styles. On 17th February 1990, Tan Ky old house was recognized as a Historic Monument – National Culture.
Location: 101 Nguyen Thai Hoc Street
4. The Tran Family Chapel
In the 1700s, Tran is a large family who emigrated from China to Hoi An and this Family Chapel was built by a Tran mandarin in 1802 according to the principle of Chinese and Vietnamese traditional feng shui. Located on an area of 1500m2 with grandparents worshipping hall, the exhibition of the relics hall that relating to their family and the living house. The Tran Family Chapel had the ancient Vietnamese Chapel style for many years ago.
Location: 21 Le Loi Street
Sites outside Ancient town
1. Cua Dai Beach
Cua Dai is a beautiful beach in Hoi An with white and soft sand, clear and blue water, small waves, and many fresh seafood restaurants. Cua Dai Beach in the evening is very wonderful with the vast beach and sparkling lights.
Location: 5km from Ancient town to the East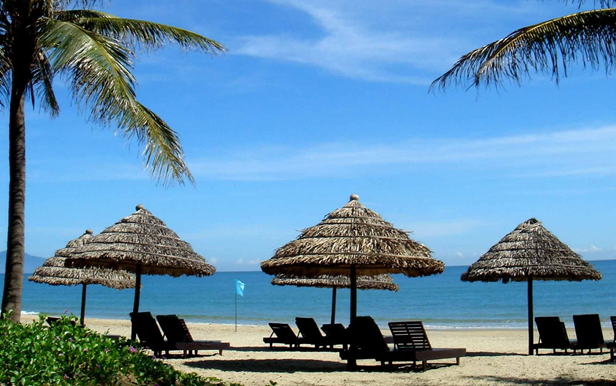 2. An Bang Beach
Coming to An Bang, you will be felt the wonderful fresh air when walking along on the sand, feeling the sunshine, see the beauty of the beach when the sun is rising.
Location: Belonged to Cam An Ward, 3km from Ancient town the East
3. Kim Bong Carpentry Village
The craftsman in this village had the pride that the Kings of Nguyen Dynasty had invited their forefathers to come to the Hue ancient capital for the construction and restoration of the citadel and mausoleums. When visiting, travelers can see many products that be manufactured very delicately.
Location: Located in Cam Kim ward, opposite the ancient town, on the other side of Thu Bon river, from the Ancient town wharf, you only take 10 minutes to get there by boat.
4. Thanh Ha Pottery Village
In the 16th and 17th century, Thanh Ha is a thriving village which is famous for ceramic products exchanged and sold throughout the central provinces of Vietnam. The pottery in this village had origin from Thanh Hoa Province, and after receiving the techniques, they formed the pottery remaining until now. The main products are utensils used in daily life such as cups, bowls, jars, vases…. with a variety of designs, colors, especially lighter than the same products of other places.
Location: 3km from Ancient town to the West
5. Cu Lao Cham island
Cu Lao Cham has 7 small islands that have the specific biodiversity of natural forests, beautiful beaches, coral reefs, and many valuable species of fish. With blue and clear seawater, you will have diving experiences to see the colorful reef at the bottom of the sea.
Location: Located in Tan Hiep ward, Hoi An, 18km from Cua Dai Beach to the East. It is about 30 minutes by speedboat at the port of Cua Dai to get there. Another way, you can go by wooden boat at Bach Dang wharf for 2 hours to Cu Lao Cham island
What to eat in Hoi An
1. Hoi An chicken rice
With the excellent processing, Hoi An people have created the chicken rice dish with its special impression. This dish is served with onion, fines herbs, sour papaya.
Location: Mrs. Buoi chicken rice, Mrs. Huong chicken rice, Mrs. Minh chicken rice, Ms. Nga chicken rice, etc.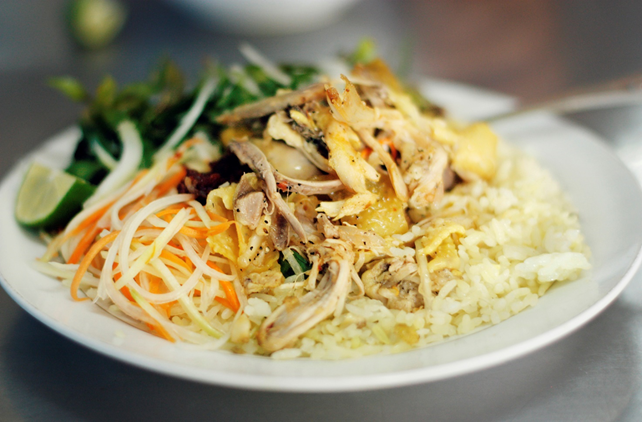 Hoi An chicken rice
2. "Cao Lầu"
Many people who have lived for a long time in the Ancient town said that "Cao Lau" appeared in the 17th century. So that this dish probably influenced a lot of Chinese cuisines as well as Japanese Udon cold noodles. However, Cao Lau still has the best and specific taste that only has in Hoi An.
Location: It's easy to find Cao Lau in Hoi An, from the vendors to restaurants on Tran Phu Street, the most famous is Ms. Be store, Trung Bac.
Cao Lau
3. "Bánh Bèo" (steamed rice pancake)
To make Banh Beo, they choose delicious rice, and inside the cake are shrimp and pork. When the guests come in, the owner put many cups on trays, pouring the shrimp and pork, adding oil, chili sauce, onions, and put all on the table. For eating Banh Beo, you have to use a "bamboo knife", a bamboo rod with a blade shape. It also makes the guests feel curious about the different dishes and the eating way.
Location: The restaurants in Cam Chau, Cam Nam
Banh Beo
4. "Mì Quảng" (Quang Nam noodles)
Seeing from the outside of Mi Quang, it is almost like Cao Lau, but just try to taste it, you will see that these are 2 completely different dishes. The noodles in Quang Nam style are often served with shrimp, pork and quail eggs… This dish can be missed for serving with rice crackers and vegetables.
Location: Ms. Minh restaurant, Cam Ha area or Hoi An market, Tran Phu Street or the vendor stores.
Mi Quang (Noodle in Quang Nam style)
5. "Hoành Thánh"
Hoanh Thanh has many kinds as Hoanh Thanh soup, Hoanh Thanh noodle, fried Hoanh Thanh, and each kind is divided into pork, chicken, or shrimp. The Hoanh Thanh with chicken and pork are easy to eat while the one with shrimp is sweeter and the fried one is a little bit cloys.
Location: Van Loc Restaurant on Tran Phu street, the restaurant in number 26 Thai Phien street is more popular.
Hoanh Thanh
Shopping in Hoian
Hoi An lantern is made very beautiful, light and could be collapsible so that suitable for travelers to buy as souvenirs. You can buy in Tuoi Ngoc, Ngoc Thu lantern shop on Tran Phu street or the shop on Le Loi street. The price is not too expensive, it just about some dollars per lantern.
Sparkling lanterns
People often said that sewing clothes in Hoi An are cheap, nice, and very fast to get back. In just a few hours, the tailors will finish sewing the clothes that suitable for you. If you cannot wait, just leaving your measures and address, the shop will send the products to your address. Some sewing stores in Hoi An like Thu Thuy Shop (60 Le Loi street), Yaly (358 Nguyen Duy Hieu Street), Oriental silk (40 Le Loi street), Bao Khanh (101 Tran Hung Dao street).
From zany sneakers to posh Brogues, dress heels, or flip flops, Hoi An' s surfeit of shoe stores and designs to suit all walks of life. Many designs are heavily influenced by the European style. Check out various shoe shops in Phan Boi Chau street if you prefer a completely original design and high fashion. When you want to have leather shoes, you should ask to see the leather first, feel it, and smell it. You can burn it in order to check if it is synthetic. If it is mixed with plastic, it will have a nasty smell. Another recommendation is you check and compare the leather at the shop with the real products to verify the quality before buying anything. Moreover, when the design is complete, please check the stitching and gluing, shoemakers usually use both nails and glue to keep the soles sturdy. In this case, you can ask the salesperson to show you how it is made.
You should be ready to start 'designing' your bag to make it in Hoi An. They have some great bags already on display in the shop but if you have a design of your own they will be able to make it for you. They follow the same policies as their other shop, 100% reimbursement if you are not satisfied with their products. No Like = No Pay is their slogan.
Other tips for traveling Hoi An
It is very excited in the early morning that most of the streets in Hoi An are quite noisy and the people prepare for a new day with no lights. However, walking in the evening is also the most interesting experience in the small alley of Ancient town. Every night, they often have the cultural boat at Bach Dang Wharf with traditional music.
These are some of our tips for traveling to Hoi An with the most interesting experiences. Of course, if you have a chance to visit here, remember to share your tips that you get after your wonderful trip to Hoi An.