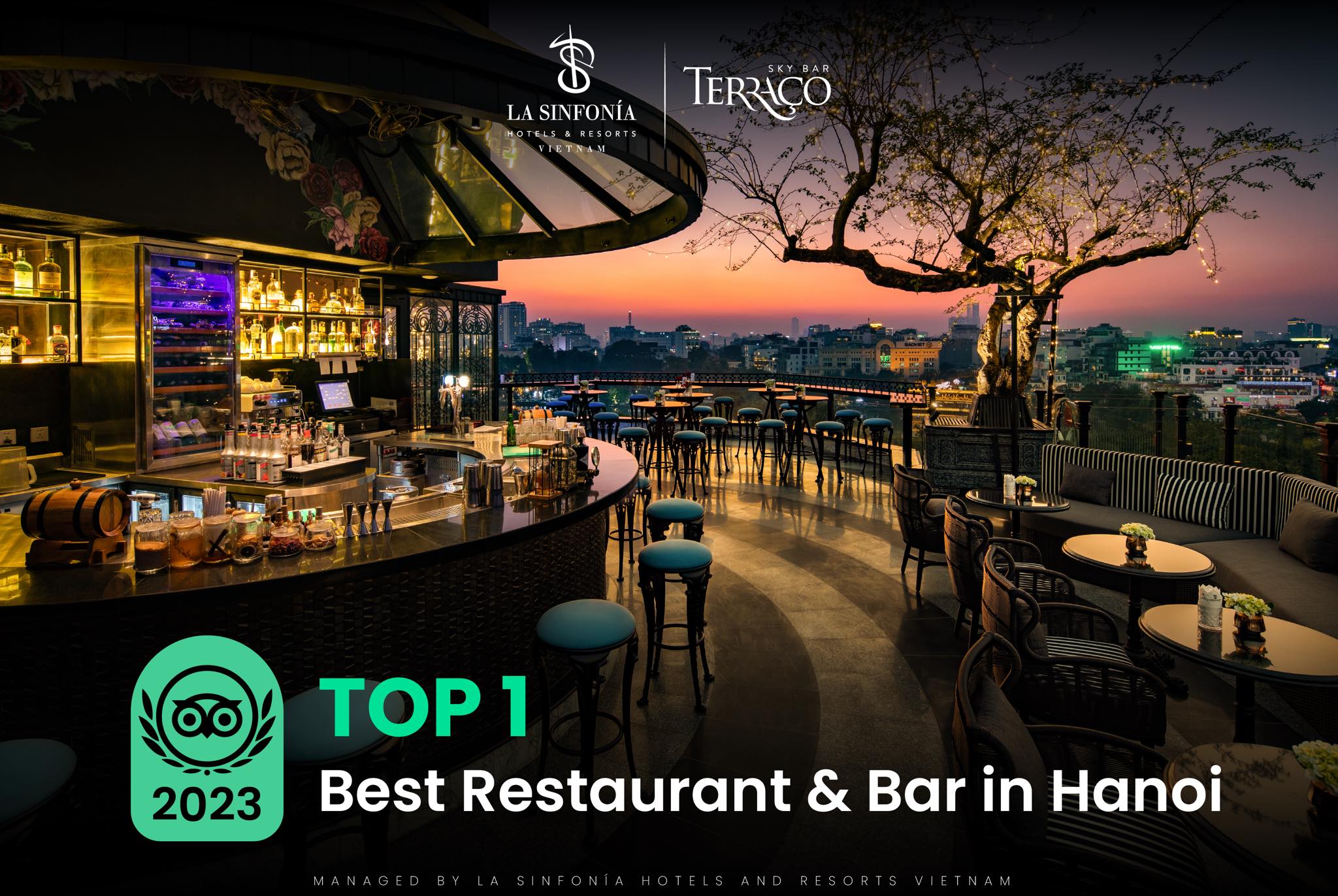 Top 1 Restaurant & Skybar in Hanoi on Tripadvisor
Terraço Sky Bar rất vui mừng thông báo vị trí TOP 1 những địa điểm nhà hàng/ quán bar tốt nhất tại Hà Nội theo đánh giá của trang web du lịch hàng đầu Tripadvisor
Chúng tôi rất vinh dự khi dành được tình cảm của quý khách trên mọi miền đất nước và bạn bè quốc tế khi đến với thủ đô Hà Nội. Với tầm nhìn ôm trọn hồ Hoàn Kiếm kết hợp cùng những món cocktail signature mang đậm hương vị Việt Nam, Terraço là giai điệu hòa quyện giữa vẻ đẹp vốn có của thiên nhiên và những xây dựng tài tình của con người.
Mong muốn mang đến cho quý khách những cảm xúc thú vị mới mẻ và một trải nghiệm thư giãn trọn vẹn bên ly cocktail, toàn bộ đội ngũ nhân viên tại Terraço đã và đang cố gắng học hỏi và hoàn thiện hơn nữa chất lượng dịch vụ và hương vị trong những đồ uống được chăm chút kỹ lưỡng.
Terraço một lần nữa xin được gửi lời cảm ơn tới tất cả quý khách hàng đã yêu quý, một không gian ấn tượng giữa lòng phố cổ không chỉ được xây dựng bởi chúng tôi mà còn là cả sự đóng góp của tất cả các bạn.
_____
Terraço Sky Bar is thrilled to announce our first place: TOP 1 – the best restaurants/bars in Hanoi on Tripadvisor
We are honored to gain the love of every single dear customer all around the world. A panoramic view of Hoan Kiem Lake combined with signature cocktails that bring out the most authentic tastes of Viet Nam, Terraço is the rhythm that flows all the way from the magnificent nature to the beauty of human work.
With the passion to create a whole experience, and yet with delighted time besides your drinks, our staff are trying every day to be a better version of themselves: serving the best drinks and making the most friendly environment.
Terraço is very thankful for the huge love that we have received. Our dear customers – you are also playing a vital part in the amazing impression that we have today!
__________________
Terraço Sky Bar – Managed by La Sinfonía Hotels and Resorts Vietnam
▪︎ Address: 8th Floor, La Sinfonía del Rey Hotel & Spa, 33 – 35 Hang Dau Street, Hoan Kiem District, Hanoi, Vietnam
▪︎ Hotline: + (84) 969 085 788
▪︎ Website: www.terracobar.com
▪︎ Top 1 best restaurants & sky bars in Hanoi on Tripadvisor
▪︎ Top 3 best rooftop hotels in the world on Tripadvisor