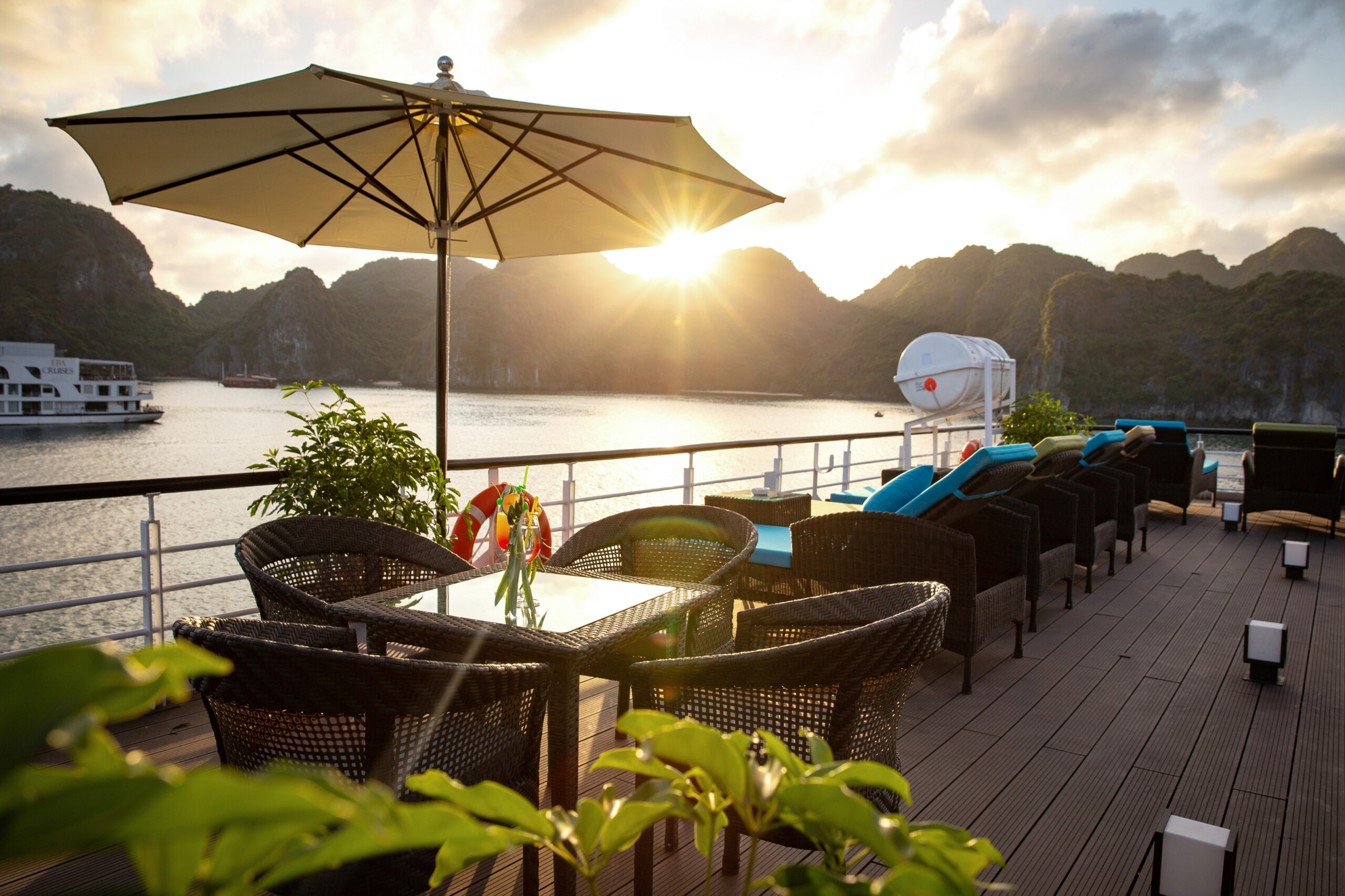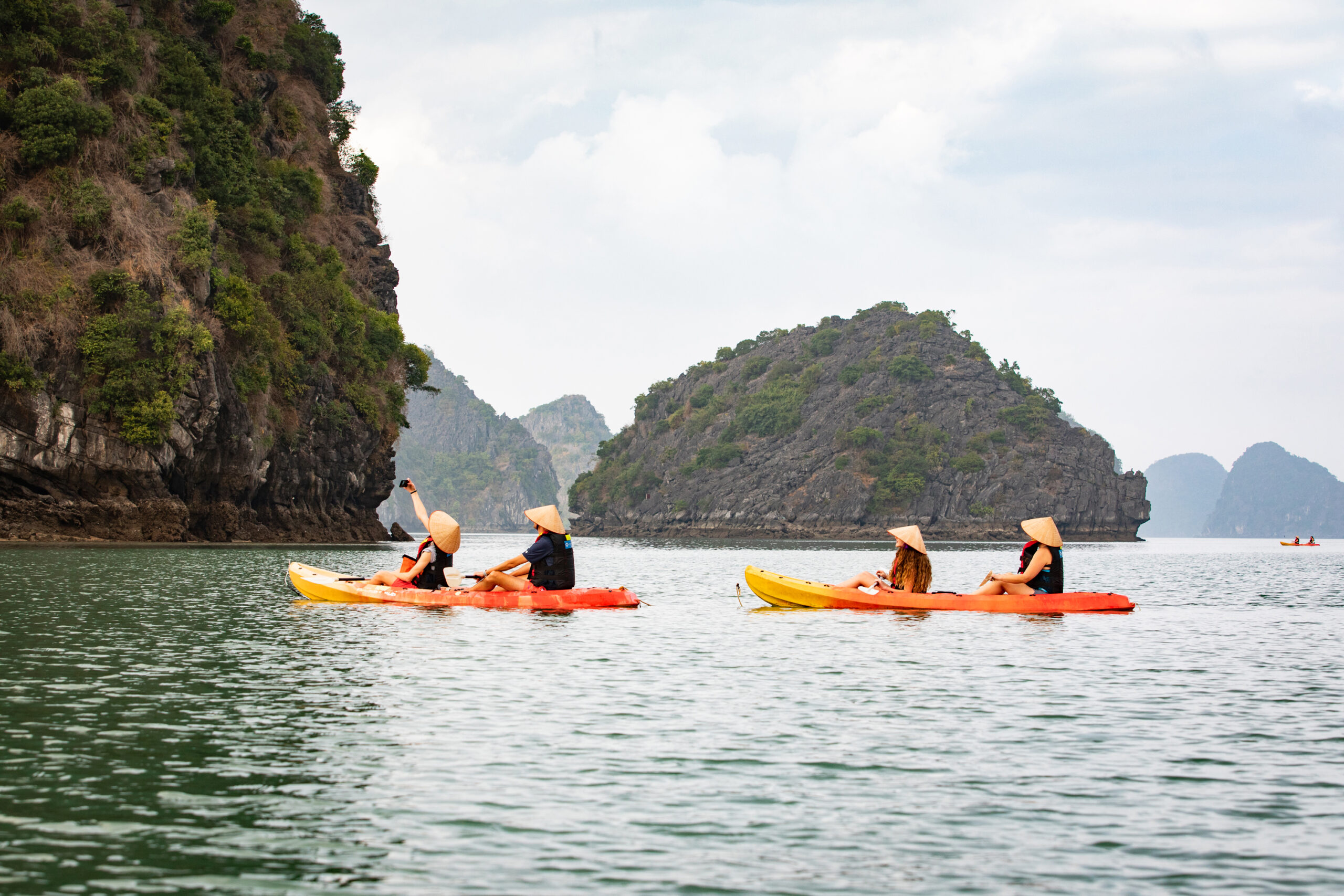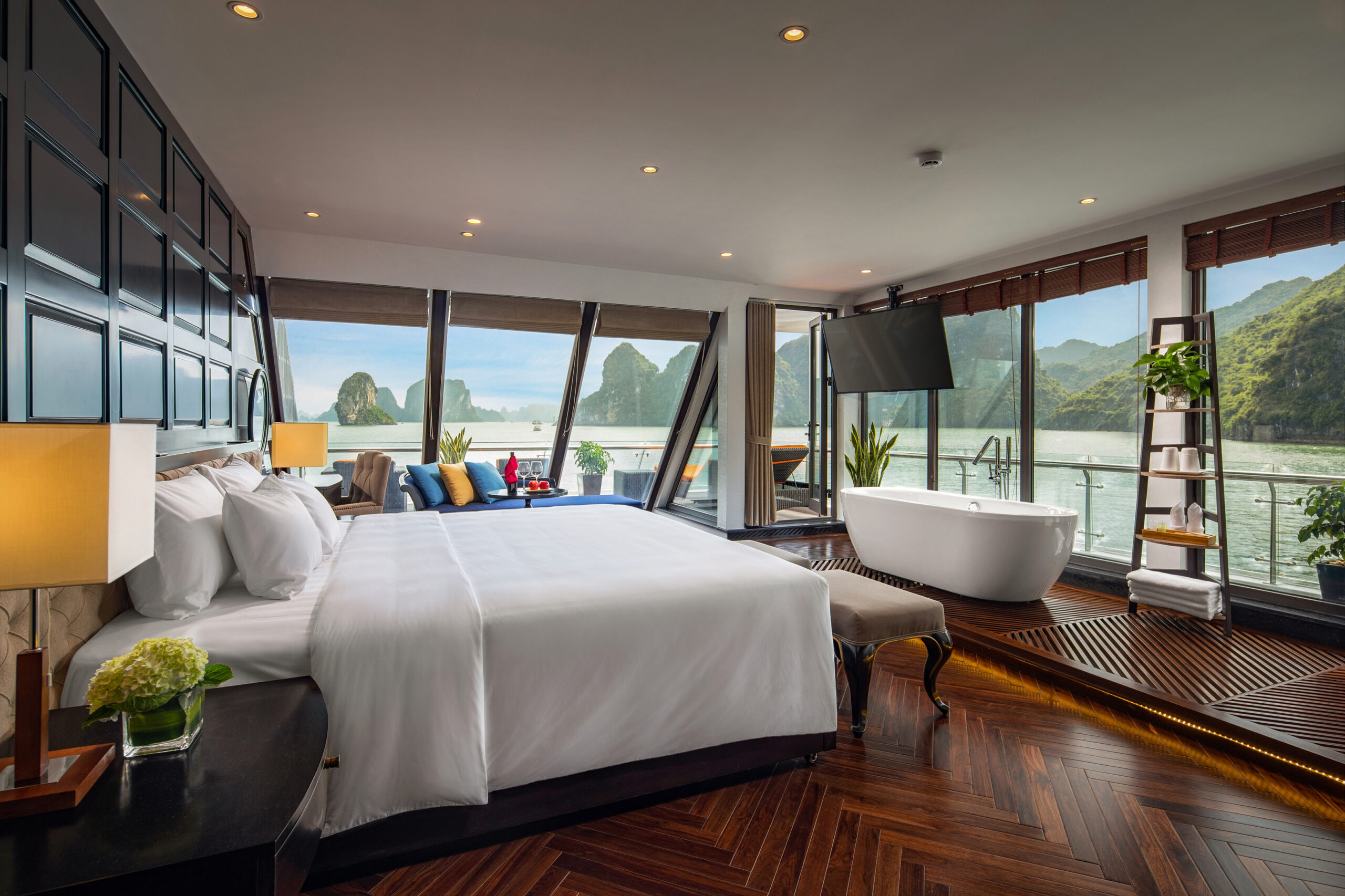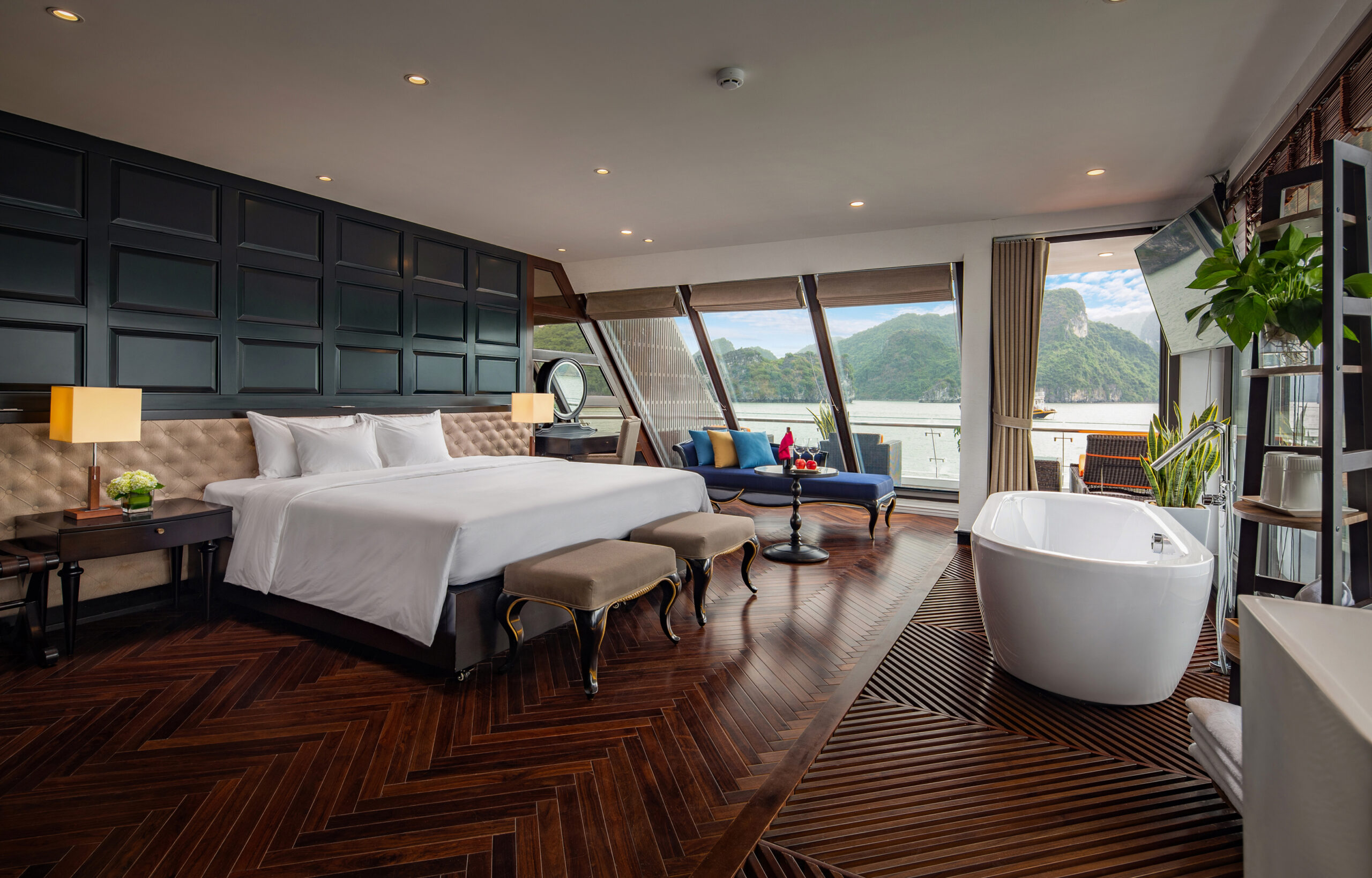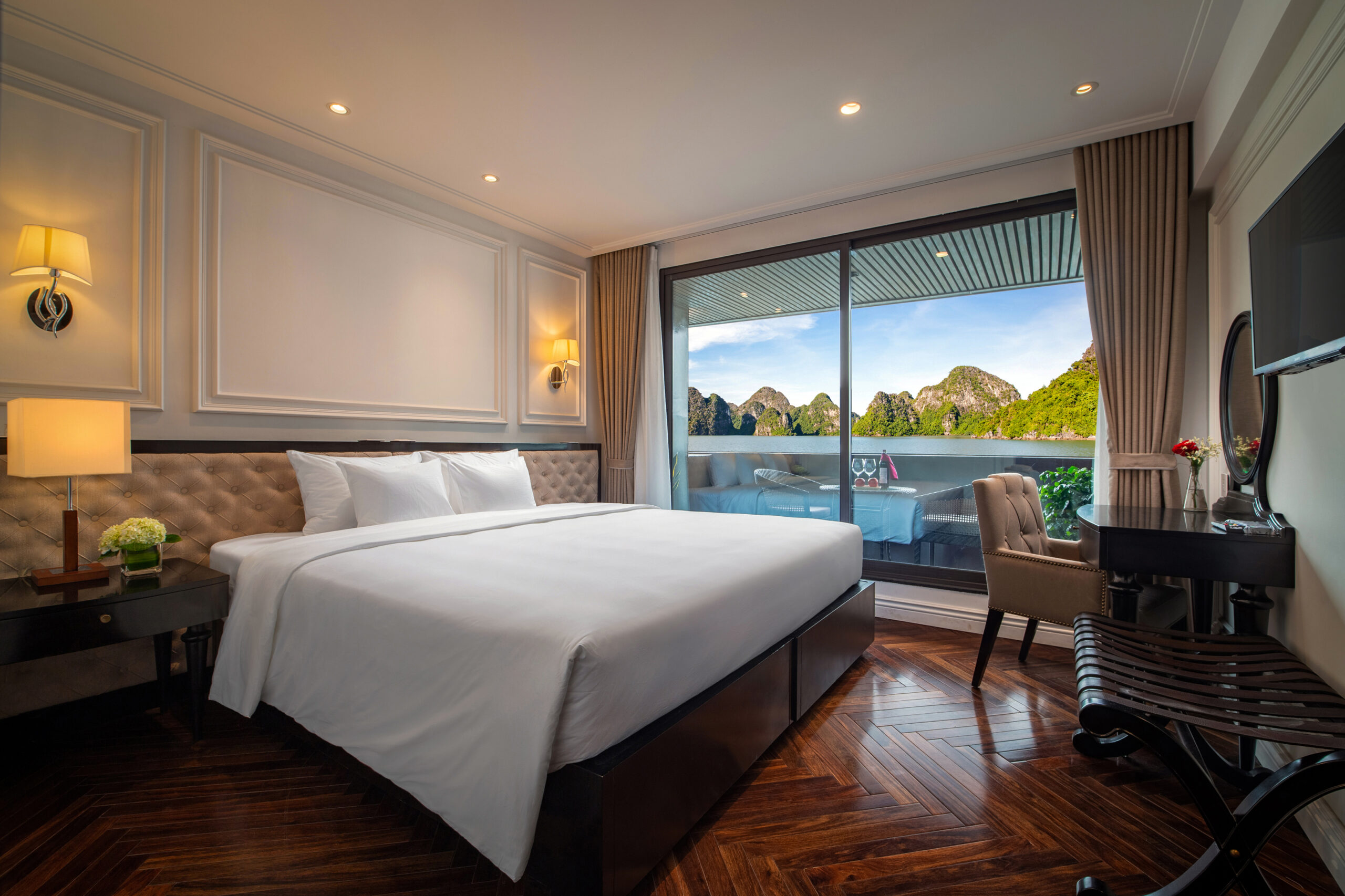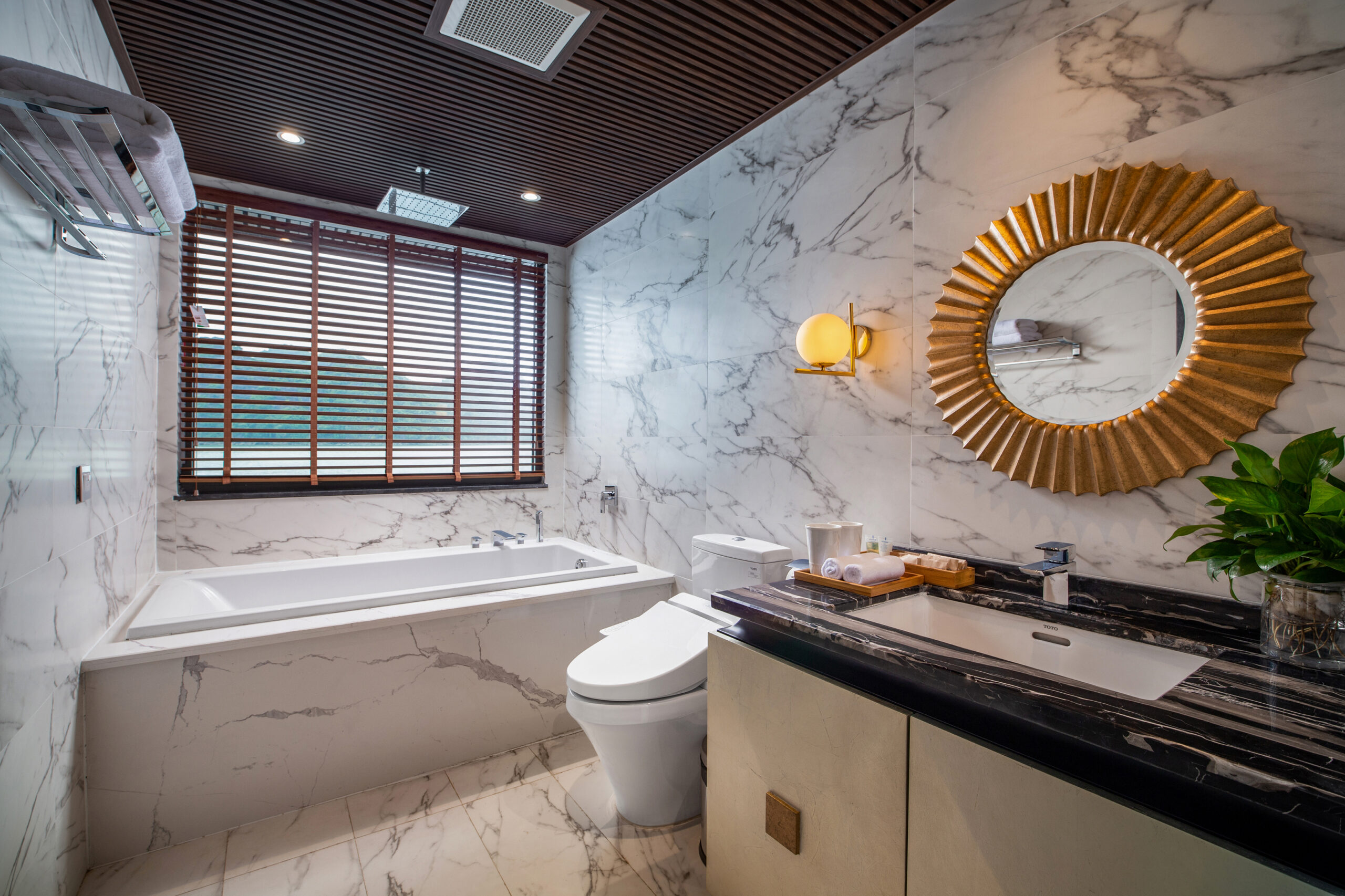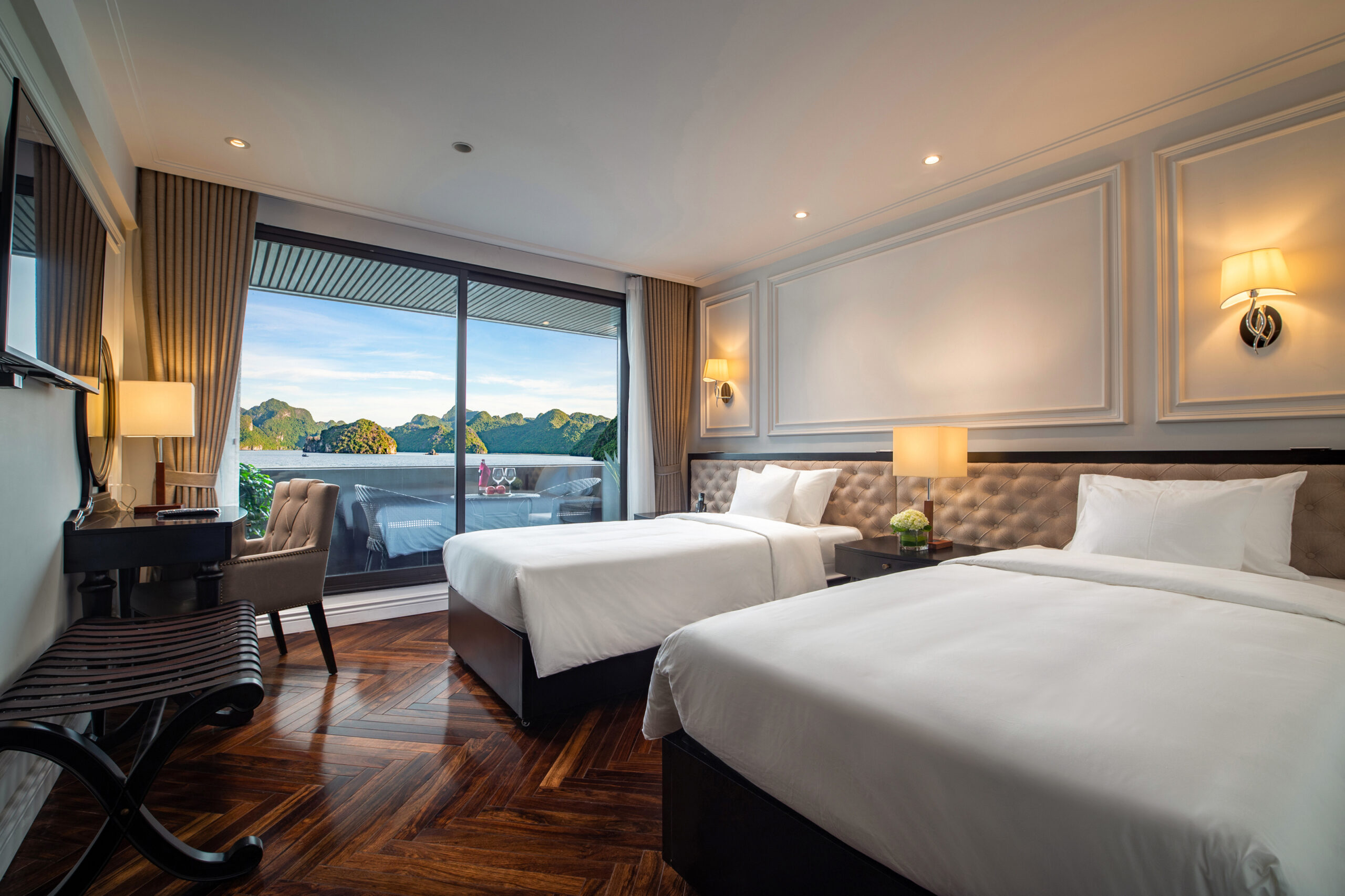 Itinerary
-DAY 1-

12:45 Have a lunch at Dining room at the 3rd deck.

14:00 Check in your cabin.

14:30-16:00 Visit Dark and Bright cave by Kayaking or local rowing boat in the cave.

16:30 - 17:30
+ Swimming in the sea or in the Swimming pool
+ Tea break - sunset party in the bar.

18:00 Cooking demonstration and Happy Hour.

19:00 Dinner with BBQ at the Swimming pool area or Restaurant (depend on weather condition)

20:30 Relax with entertaining activities like:
- Squid fishing at the first deck (close by Reception area)
- Play golf at the second deck (stem of the boat)
- Swimming Pool area at the third deck (Stem of the boat)
- Enjoy your time on top deck/ your cabin.
-DAY 2-

6:10 - 6:30 Tai Chi Exercise at Mini Golf on 2nd deck.

6:45 - 8:15 Have a light breakfast at restaurant at the 3rd deck.

7:00 - 8:30 Kayaking in Ao Ếch area.

8:30 Return the cruise.

9:30-9:45
+ Packing up luggage and leaving them outside cabin.
+ Return room key to receptionist (at stern of the 1st deck).

10:00 Have a brunch at restaurant - the 3rd deck.

10:45 Settle down the payment for personal expenses (beverages, spa, etc.).

11:00 Disembark (the Stellar of the Seas cruise). Return to Harbour.
NOTE: It is advisable to keep your personal belongings inside the safety box in the room or submit them to the front desk on the 1st floor.
- Cruise itinerary and schedule are subject to change due to weather, tide levels and operating conditions.
- The wifi signal could be poor because the cruise is far away from the mainland. We hope that you will appreciate our
situation and cooperate with us.
Additionally, we offer a private yacht discovery package that provides the following experience:
- Travel to visit a natural beach
- Enjoy stand-up paddle boarding, snorkeling, swimming, and relaxing on the beach.
- Go fishing.
- Experience BBQ and local seafood at a local floating house
For further information, please don't hesitate to talk to our cruise manager.
Rate: US$/per person
From 1ST Oct 2023 to 31 Dec 2024
 Cabin
Jan – Dec 2023
Jan – Dec 2024
1 pax
2 pax
1 pax
2 pax
Junior Suite
280
212
305
230
Senior Suite
329
249
357
271
Executive Suite
402
305
439
334
President
826
635
905
695
Surcharge: 20% per person:
*Lunar New Year: 9-10-11/02/2024
INCLUSION
- Full equipped luxury en-suite cabin with multi A/C, marble bathroom, and finest bathroom amenities
- All meals on board: 01 set western lunch, 01 fine dining BBQ swimming pool dinner, 01 light breakfast and 01 Vietnamese menu brunch
- Tender/speedboat transfer
- Welcome drink
- Live Music
- 24-hour room service with no extra charges
- 24-hour food ordered with no extra charges
- Refilled bottled fresh water with no limit
- All rooms with a private balcony, full ocean view
- Cookery demonstration
- Entrance and sightseeing fees
- Taichi, games, gym, swimming pool and library
-  Beach activities such as kayaking, bamboo boating, caving, squid fishing
- Internet wifi in the cabin, Satellite - HD LED Tivi
- Fishing and golf equipment
- English speaking guide
- On board insurance and service charges
EXCLUSIONS
- Tax and service charge
- Transfer service: sharing Limousine minivan (maximum 7 guests) 20$US/ per person/ 1 way. Sharing MPV Sedona (maximum 5 guests) 25$US/ per person/ 1 way
- Tips and other personal expenses
- All other services not clearly mentioned above
Have a Question?
Do not hesitate to give us a call. We are an expert team and we are happy to help you.
Call us: (+84) 962 932 818
Email : info@lasinfoniavietnam.com